DROPS

I like to express myself through my work, sometimes it's just a single image, but it even can be a whole series with different topics. In my art I am very often drawn to realistic, haptic textures and colorfull shapes. Some of these works are minted as NFTs on different platforms.
When the K hits
You can click on the link to get a full description of the project.
Two pieces from these series are minted as NFTs.


1. Dissrup

( Sold)


2. Superrare
The Connection Pt.02

This loop with the title "The Connection Pt.02" is a constant transformation of information blocks which are connected together in different combinations. The motion itself has a strong influence of a Rubik's cube. This piece was originally done in 2017, but was remade in 2021. (here) - Size: 1536x1920 Sound: Amedeo Inglese [Noi] Year: 2017 & 2020
S
old on superrare
The Connection Pt.01
This piece is a rendering from a bigger series with the topic "Connection". The animation bounds five different characters together. In the beginning they are staged in a classical triangle composition, while towards the end they are gathering in the center. This composition change is even emphasized by the motion of the five objects. Especially the green/glossy one creates a unpleasant feeling of penetration. That's why the other ones are trying to escape, but can't because of the connecting strings. - 1536x1920px


Sold
Blob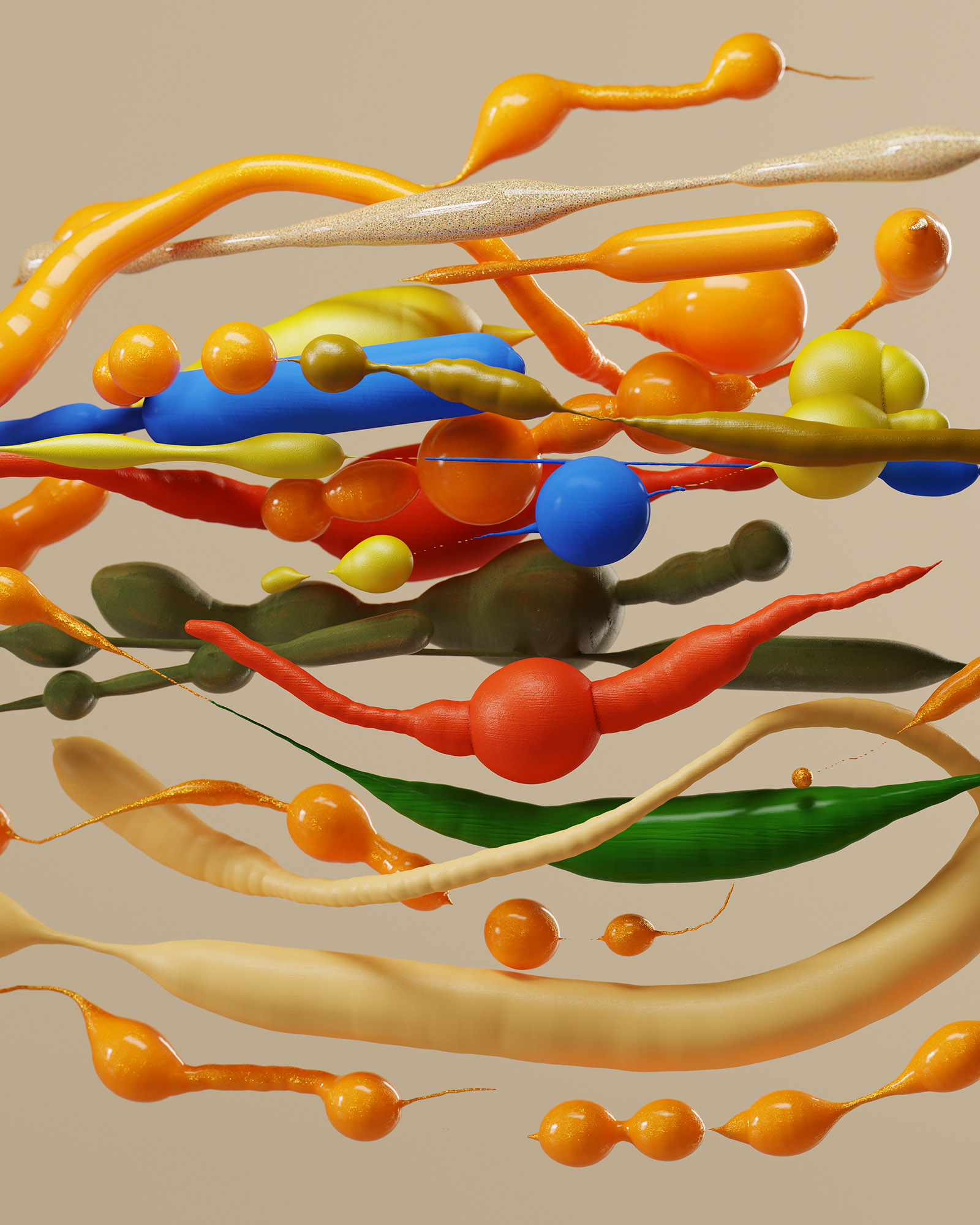 These abstract shapes with the title "Blob 01" are inviting you to go an a sexual virtual adventure in your mind.
-
This is the first image, originally created in 2018 with a Oculus VR headset. The images are a 2021 new edition. Details were added and the resolution of the artworks is now 3200x4000px.


Sold
Noctus
This is the second piece from "The rocks" series, which goes by the name "Noctus". It's an underwater installation which is linked to the sea life and it's current challenges. The center of the artwork is an octopus which inspires me with his intelligence and creativity
.
Sold
Before K hits

This is a series of three different pieces which are connected to the the 2021 K hits. This series was done in 2020. Resolution: 1536x1920
Sound: Jürgen Branz
Get them on Dissrup.
Spini Spini

This piece resembles the meaning of closeness by preforming a modern dance. This artwork is a piece of a larger series and was done in 2020.
Sound by Jürgen Branz.
Year: 2020
Place a bid on
HicetNunc
Scrambled
This animation belongs in the same series as "Egg in Yolk". The colors emphasize a feeling of warmth, comfort and togetherness . The shapes are interacting in zero-g and are forming a soft group - a situation most of us are dreaming of right now.
Sound: Jürgen Branz
Sold
Fluctus
This piece with the title "Fluctus" is from my particles series Particle series. It resembles a hydrophobic dance of two different media in a water based liquid. - 10% will be donated to Sea Shepherd. - 1080x1080px
Sold

on superrare
Egg in Yolk

This piece is called "egg in yolk" and it is an artwork of my ongoing series from soft and squishy objects. I am always trying to build a relationship between different shapes and colors. Often the realism of the material is emphasized, which gives it a haptic feeling. Even though everything is just digital. - Sound by Jürgen Branz Created in 2019
Sold
Joints - Bricks
Vitaly Grossmann and Vincen Schwenk work as a creative duo named VVAND. For their LAB the created an ongoing collaboratio project called JOINTS. They want to bringt artist together and join ideas concepts and visuals, free fro restrictions and expectations. For the "bricks" series they worked wit zenthing and Jürgen Branz together.
Sold
Coral Movement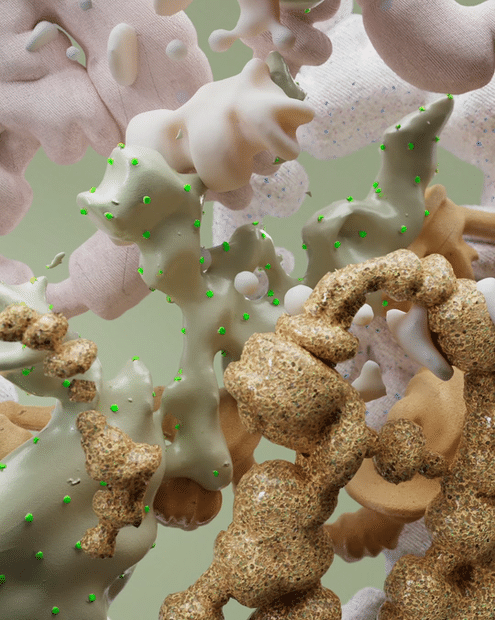 This work is build upon my VR series, which were modeled in Oculus Medium. They are more evolved and have a way stronger haptic look. Also the motion creates a deeper feeling.
Place a bid on foundation.app
Maoam
This work is minted on the Tezos blockchain on the site: hicetnunc.xyz Everything there is still very much experimental, but I wanted to give it a go because the environmental impact is way less than on the other platforms. You can see this drop like a digital postcard, because you can also buy several pieces of this rendering.
All 10 pieces are sold on Hitetnunc.
Benedict
This is the third piece of the "egg series" with the title "Benedict". This male name is giving you several options to interprete the
animation especially the squeezing, the pushing and the impact at the end.


Sold
Simulate the truth
"Simulate the truth" is the first out of three pieces. This modern art installation is linked to the real world, which their realism and detailed texture work emphasizes. Created in 2020.


Sold